BÖP-Beitrag beim European Congress on Psychology 2023
"Mehr Gleichheit und besserer Zugang zu psychologischen Diensten: Diskussion über europäische Erfahrungen", darüber wurde im Rahmen eines Events beim European Congress on Psychology 2023 in Brighton, UK, am Montag, 3. Juli 2023 diskutiert. Die einzelnen Themen wurden in die WHO-Pyramide zur Einordnung und Leistungserbringung psychologischer Dienste eingebettet. Besprochen wurde, wie der Zugang zu psychologischen Diensten für PatientInnen und die Leistungserbringung seitens der Institutionen verbessert werden können.
Sandra Lettner war als Vertreterin des BÖP-Referates der PsychologInnen der Österreichischen Krankenanstalten dabei. Ihr Beitrag lautete, "The added Value of having Clinical Psychologists on the Team in Hospitals, long stay facilities and specialist psychiatric Services".
Die Eröffnung wurde von Christoph Steinebach, EFPA-Präsident vorgenommen. Die mitreißende Eröffnungsrede von Arthur Evans, Vorstandsvorsitzender der American Psychological Assoziation, wies vor allem auf die Feinheiten der berufspolitischen Arbeit hin und darauf, dass man die emotionale Verbindung bei entscheidenden Verhandlungen nicht vergessen dürfe.
In der zweiten Keynote, wies Martin Knapp von der London School of Economics auf die wirtschaftlichen Überlegungen zur Gewinnung von Entscheidungsträgern hin, dabei zeigte er vor allem zu beachtenden psychologischen Detailaspekte auf.
Anhand von gelungenen Beispielen aus Portugal, Belgien und Großbritannien zur Implementierung psychologischer Leistungen auf Gemeindeebene oder Public Health Ebene wurden Verbesserungen des Zugangs zu psychologischen Dienstleistungen diskutiert.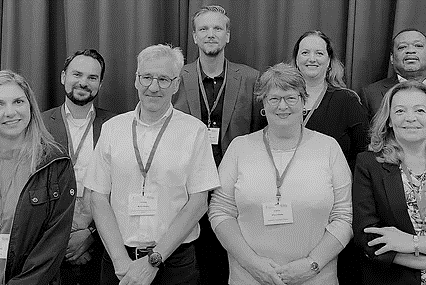 2. Reihe: Koen Lowet, CEO Flemish Association of Clinical Psychologist; Lars Joergen Berglund, Norwegian Psychological Association; Sandra Lettner, Austrian Professional Association; Arthur Evans, CEO American Psychological Association
1. Reihe: Maria Karekla, University of Cyprus; MARTIN KNAPP, London School of Economics; Alison Clarke, Chair Practice Board, British Psychological Society; Margarida Gaspar di Matos, Universidade de Lisboa;
Leider nicht am Bild: Tiago Pereira, Portuguese Psychologists Association